SUPERHEROES/ROLE PLAYING GAMES – Six of the Best Superhero Tabletop Role Playing Games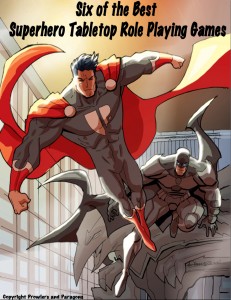 There's a TON of Superhero Tabletop Role Playing Games (RPGs) out there. I own quite a few. I thought I'd point out six that are worth taking a closer look at.
These are by no means the only ones worth looking at. Just a few of the good ones.
If you've read my blog enough, you know I love the superhero genre and I also like tabletop RPGs.
I also, occasionally run games. When a person does this, they are usually called a "Game Master" or GM for short.
Some tabletop RPGs are "crunchier" than other. Which is to say, they have more complicated rules. Others are not so bad. Some take more effort to GM, others take less because of the rules and resources available. Some are even easy to improvise.
Some games allow a lot of versatility in character creation and gameplay. Others are more restrictive.
Below I take all of these things into account.
Champions is the granddaddy of the superhero tabletop RPG genre…well…sort of. I should say, it's the granddaddy of the versatile, character generating, superhero Tabletop RPG genre.
Champions Complete is the latest 6th edition of the HERO system rules in one books.
Versatility
When it comes to character creation you can create anything you can imagine. The sky's the limit. The HERO system is especially designed to be the most versatile rpg out there. Its deep.
As far as versatility of superhero play and how well is simulates comics, it's good but not great. You can't get too creative with your powers. If you want to do a crazy stunt that fudges the boundaries of your powers, you pretty much can't do it. If you didn't buy the ability, it's off limits.
Crunch – Very High
This system is deep, the basics of the system is actually very simple, but it's very glandular. It can make for some slow deep fights.
The character creation can be a huge burden. Lot's of math, lots of looking stuff up. We're talking hours per character.
It's best to buy the computer program that helps you generate characters, if you're going to be using this system a lot.
GM Friendliness
As I said before, the gameplay system is deep. It will take a lot of work to really learn it so that it plays fast. Character creation is just too much work. Which means inventing characters on the fly is out. Hours of prep work will be needed.
However, the Champions source book
is an encyclopedia of superhero ideas and resources worth owning even if you're not planning to run this system.
Mutants and Masterminds (M&M) might as well be called "Son of Champions." It's a slightly less math intensive version of the HERO System. Although the M&M is a superhero system, only.
It's based on a slightly streamline version of the D20 system.
Versatility
M&M is just as versatile as Champions. Any superhero and power you can think to create you can create. The sky's the limit.
As to the versatility of play in how it captures the comic book feel, it's quite good. Players get "Hero points" which can be spent on "stunts" that allow them an occasional, one time only, extra power or rules brake when the story or moment calls for it.
This makes the M&M game feel more superheroic .
Crunch – High
The game play system is simple in theory. However there's a lot of small crunchy rules to keep track of.
It's much easier to make supers in M&M. However, it's still not fast. Character creation takes quite a bit of time and there's still a bit of math and looking up powers involved.
GM Friendliness
Again, because of the time it takes to make characters, it's difficult to make characters on the fly. However, the best thing about M&M is that it had the DC Universe license and you can get source books with stats of the DC heroes in them. In fact, this is the version I own and I love it.
Source books for running different superhero genres in M&M are great too.
Like HERO System, Savage Worlds is meant to be a complete and versatile system. It's also meant to be a faster and simpler playing game.
The Superheroes Companion is a source book for Savage Worlds that helps you play superheroes in the system.
Versatility
In order to cut down on complexity, the versatility of the types of characters and power that can be created using the Superheroes Companion isn't as robust as in Champions and M&M. That said, it's not bad at all.
However, it does capture the heroics of superhero play very well. Players get points called "Beanies" that are awarded to the player by the GM or other players which can be used to do superheroic stuff and break rules.
Also, the inclusion of "exploding dice" just takes it over the top. "Exploding dice" is when you roll the highest number on a die and when you do, you get to roll it again and add the extra number to the roll.
Crunch – Medium
Character creation can take about 30 minutes or less in the system. Almost no math required.
Fighting is fast, furious and fun. Everything is very straight forward. Super easy system to learn.
It's one of my personal favorite systems.
GM Friendliness
One of the few systems, that I know of, which require almost no prep time. You can easily make characters up on the spot.
Fights are really fast. The system is super easy to learn. It's really a great system to GM.
BASH! was especially designed for kids and for education. It was designed to be simple enough for almost anyone to pick up and play.
Versatility
It's not quite as robust as Champions and M&M but it's quite good. Character creation is quick and easy.
As some other games above, BASH! has what it calls a "Hero Point" which every character is given at the beginning a session. It allows rules breaking to simulate heroic action. It also includes type of "exploding dice" that occurs when doubles are rolled.
Crunch – Medium
The game play system is simple but it's very math heavy, requiring multiplication. The reasoning for this is to teach math calculations to kids as the game is played.
It's not as bad as it sounds. I kinda found myself looking forward to the math. It's very helpful.
Character creation is very simple and fast.
GM Friendliness
Very easy to improvise. Characters can be created on the spot.
Resources for the game are a bit limited, but a lot of them are free.
Not as many resources in the system to help a GM come up with story ideas.
A simpler superhero game from the designer of Mutants and Masterminds. This is the pick up and play superheroes game based on the FATE system.
Versatility
This game is not meant to have a versatile character creation system. It's simply supposed to be fast.
You randomly roll up a character, and in about fifteen minutes, you're ready to play. There is an optional point buy system but it's not fun as rolling up a character. The powers here are limited.
However, the gameplay is VERY open. It's a very versatile system in that it allows players to really play out their powers in a very limitless way.
Crunch – Lite
The game is based on the FATE system. It's really a very lite system. Easy to pick up. Easy to understand.
GM Friendliness
This is a very easy and fun system. It's unique and expressive. You can play this game without prep time. Characters can be created on the spot.
Resources for story and adventure creation aren't very robust.
Still, this is a great system. Especially if you just want to get a game up and running fast.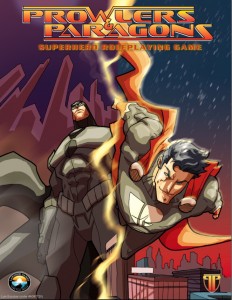 Prowlers & Paragons (P&P) is the game I just recently became aware of. The art for the game really caught my eye. It's the best things about the books.
That said, it's also a pretty good system.
Versatility
Like Champions and M&M, character creation in P&P is very robust. You can make anything you can think to make and you can do it relatively quick.
This systems emphasizes, storytelling over rules. This makes it very easy to simulate superheroic situations you might find in comics.
It has a points systems called "Resolve" that is awarded to players many different ways. The "Resolve" points can be use do to, many things that play up the heroic aspects of characters in play.
It also has an "exploding dice" system, that only make the game that much cooler.
Crunch – Lite
P&P is very rules lite. It's meant to be more about the story than the mechanics. The mechanics are there mostly to enforce creativity.
It's easy to learn, and easy to play.
Character creation is simple. Almost no math required…almost.
GM Friendliness
When the players are inputting as much story into the game as the GM, it can only make the game easier to run. This is much more a collaborative storytelling session than it is the GM having to come up with everything.
Characters can be improvised on the fly. There's plenty of resources and idea generators in the book to help create adventures.
Great superhero game system.
What's Your Favorite System
Do you play superhero tabletop RPGs? What's you're favorite? Let me know in the comments below.
Please Share this, if you like it: