ART – A Lesson Learned About Painting Opaque in Color.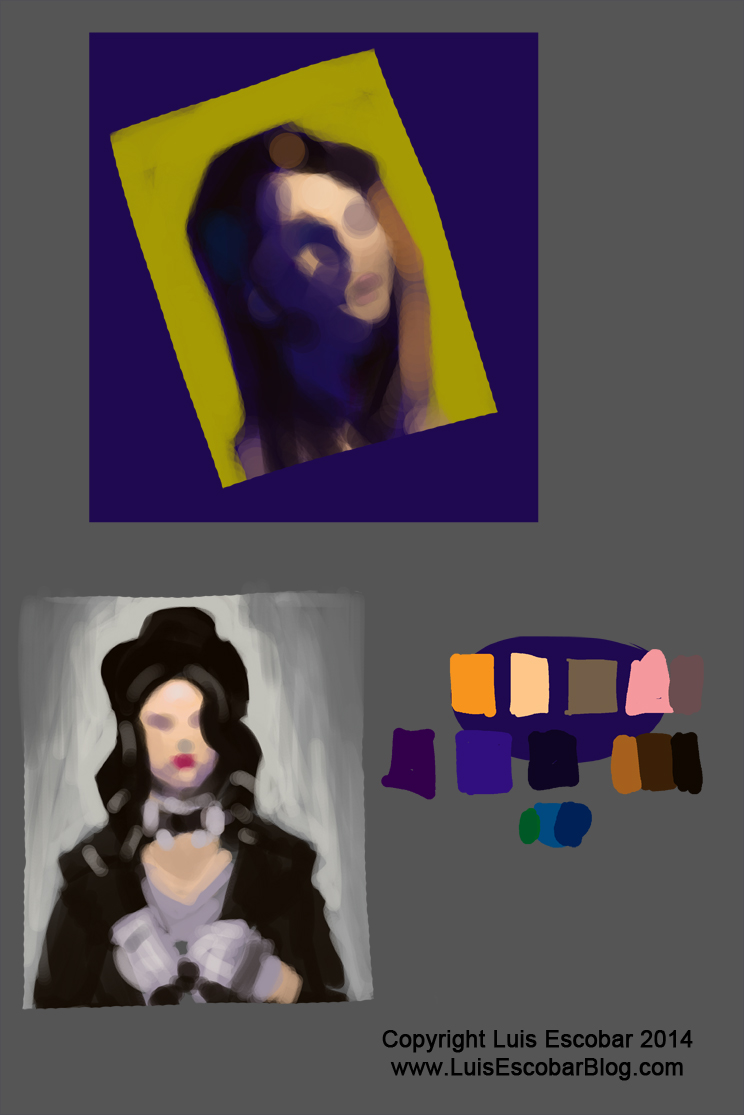 As I wrote about last week, I'm trying to build up my skill in painting opaque.  This week I tried once again to paint a face.  A chose a subject that was in color but had very stark contrast between shadow and light. I thought by doing so, I'd have a slightly easier time of it.
Well, I has partly right.
On the one hand, I was able to easily make out and paint the light and shadow patterns.  On the other had, once I did so, and started to try and finish the painting, it started to quickly fall apart.  I ended up with a painting that looked amateurish and "dead."
There was simply something fundamentally wrong with the colors I'd chosen and the way I had approached the painting.  The problem was, I didn't know exactly what I was doing wrong.
Around that time, I came across some process photos of paintings, on Pinterest.  The thing that struck me was the first photo of each painting.  It was so abstract and very simple, but I wasn't completely sure what they where doing and why.
So I decided to get some help from a dead art teacher, Andrew Loomis.
I had a pdf copy of his book, The Eye of the Painter
.  I read three pages into the first chapter and he'd answered my question.
Here's what I realized I was doing wrong. I was being far too impatient.  The truth is,  I didn't have enough experience doing what I ought to be doing, which was observing and seeing color paterns.  I wasn't seeing the painting holistically and abstract.
I wasn't seeing painting for what it was. An abstraction of strokes of color on a canvass that, when viewed as a whole, it creates an image.  I was trying so hard to "render" and "paint," that I wasn't "seeing."
This made me understand what that first panel of the process photos where all about.  That abstract group of colors and shapes is the crusial part of a painting.  If you don't get that grouping of colors right, you're painting will fall apart like mine had.
I realized that instead of trying to do a finished painting, I should practice seeing and putting down colors from the subjects I wanted to paint.
So I decided to start doing color studies. Small thumbnail color painting with no details.  My objective was to see the whole picture and try to harmonize the colors I saw, putting them in the right places, in the right way. Since I wasn't going for a finished painting and I was trying to avoid detail, I limited my brush to only one size. I couldn't reduce or increase the size.
This forces me to only focus on the colors and their placement.
The result was the color studies above. I was shocked and amazed how simply putting abstract blotches of colors in the right places made the sketch actually look like the subject.
Painting isn't about the rendering, but about the abstract combination of colors you place down in the right spots that create the illusion of the subject you're painting. Without getting this right from the start, no amount of rendering will make the final painting look right.
Before I try to do a finished painting again, I'll need to do more  color studies.  I need to get the crucial beginning step right before I can move on finished paintings.
Please Share this, if you like it: