Accidents and deadlines
THE SIMPSONS NEWS
I took Monday off this week for reasons I explain below. This put me behind. This is our last week to ship the show. It doesn't look good at all. I think we're gonna be late with it. I managed to finish what I had Tuesday morning and I was given more things to do. Since we only have this week to finish, every scene we get this week feels like a great burden. Mostly because you know it has to be done by the end of the week. It's worse when the revision is a new scene you have to begin from scratch. Turns out, fifty percent of Act III is brand new that way. To make matters worse, one day I needed Lance (the Director) to approve some shots I'd set up and he wasn't there because he was at Fox doing a DVD commentary. That stuff really gets in the way sometimes.
I worked twelve hours Tuesday, Thursday, and on Friday I will do the same. I hope that will help me get things done.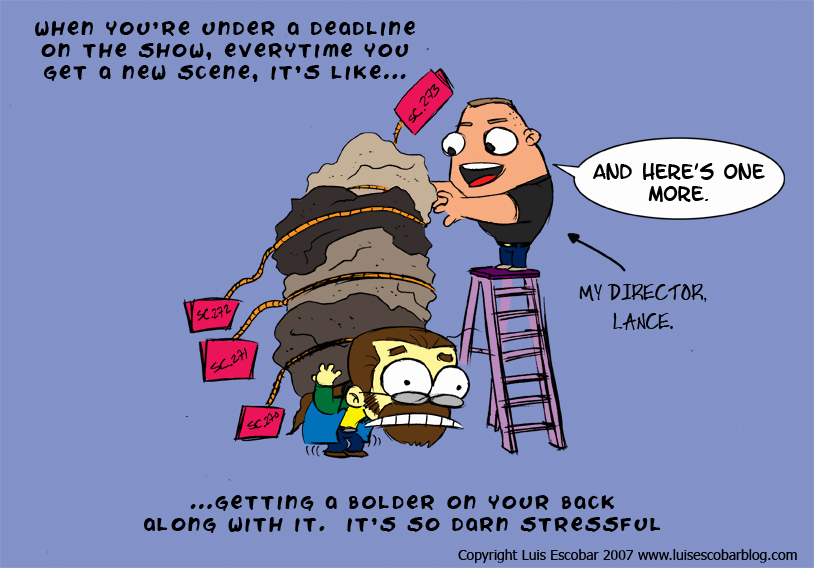 MY WEEK
My pregnant wife was in a car accident this Sunday. It wasn't a very happy day. She was at the hospital getting checked out during the whole day. I was taking care of our daughter that day so she wasn't in the car. My wife was found to be okay at the hospital and the baby in her womb was okay too. She was released around five o'clock PM. She's been sore since.
On Monday she and I took the day off work in order to take care of the car which was in a tow truck lot in LA. A very insecure one as we found out to our dismay. Some one stole my wife's iPod from the car. We took the babies things from the car and left it so that the insurance could take care of taking it to a mechanic. We then had to go get a rental car. If they find that the other person is at fault (which she is) we won't have to pay for the rental.
Wednesday we found out that car was totaled. There is no way to fix it. We really don't have the money to be buying a new car. Well…I suppose we do. We have some 'emergency' money saved up in case things like this happen but of course that would mean that the money would no longer be there after we use it and it's going to be really difficult to replace it. My wife and I aren't as worried as maybe we should be. God's Will be done. If he wants to make things easier, so much the better. I'm sure he has a plan, we just need to wait and see what it is. I've learned from experience that it's times like these that we really grow.
But a person needs new experiences. They draw something deep inside, allowing them to grow. Without change, something sleeps inside us and seldom awakens. The sleeper must awaken.

Duke Leto Atreides (Dune the movie)
We are very thankful to God that the accident, though bad, was not worse. We are very inconvenienced by it but I'd rather be inconvenienced than be grieving, for my wife or my unborn son.
ANSWERING COMMENTS
Boy, I received a lot of comments for my last post. I'm glad everyone liked the drawing. It was great seeing you all.
Greg, I was really hoping to get the reaction from you that I got. It's funny but I really did feel like that when we greeted. That's were the idea came from.
Rob, I listened to your last two podcasts. Sounds like you had one heck of a good time at the Expo. It's great to hear your perspective on the Expo. I liked the chats you had with the different podcasters you met. Thanks for mentioning me. Tell your wife that she doesn't need to like The Simpsons. I'm not offended. (SOB!)
Scott, I remember you. Yes, you were one of the first people who said something to me when I showed up. Thanks for the link to the picture. Sorry I forgot to draw you. I don't always remember everyone or everything.
Capt. Jeff, Sorry I haven't gotten back to you about the shirt idea. I will as soon as I can. I've actually gotten another one since, so now I have two ideas.
Fr. Jay, I've been listening to your podcast. It's great. I highly recommend people to go listen to it.
Sr. Anne, Thank you for the compliment. Rome was so cool. I'm jealous that you got to live there for a while. I'm glad it brought you memories of the place. Boy was that rush hour train ride crazy though. WOW!
I love the book reviews video from Sr. Julia you put up on your site! It's great for people looking for Catholic books to read.
Dr. Paul Camarata, I'm glad you like the Italy trip journal. Wow, that's so cool that you'll be going back next summer. Wish I had the time and money to go back (sigh). Dude, that guy at the Coliseum was super annoying. He almost ruined it for me.
Bill, I'm going to have to wait a week more before answering your question. I know the answer to the question but I would need to double check all my sources just to be accurate. I want to be fair and just in representing "traditionalist's" concerns.
MY WEB COMIC
Went to watch a movie Saturday night that made me rethink my webcomic story. I've decided to throw out everything I've written so far and start over. There's going to be a major change in the direction I was going with the story. I'm going to be getting rid of some characters and I'm going to be making up new ones. I'm also gonna be changing the main character's motivation. It's a big pain. Hopefully it will come together much better with these changes. I showed my wife act I and II of my story as it was written and she said it stunk. It had a lot of problems so that means back to the drawing board.
If you like what you read, please consider signing up to my rss feed.
And while you're at it, please Digg me too.
Please Share this, if you like it: