Back on board revisions. Passing a milestone on my project.
THE SIMPSONS NEWS
Back on storyboards this week.  I'm working on revising Act 1 of the 18th episode of the season. I watched the storyreel Monday and it really made me laugh.  I really like this show. I was really surprised when the director told me there were so many revision in Act one.
Turns out I have a lot work to do.  Usually I managed to finish roughing out the fixes on a board in about two days.  This one is took me three.  The director told me I have this week and next week to finish working on it but I'd rather try to finish as much as I possibly can THIS week.  That way I can at least help out with the revisions of Act 3 or 4, even though the director told me they had small rewrites.  By tomorrow, I'll see if I meet my goal tomorrow.
VIDEO
I like Aardman animation. You know, the WALLACE AND GROMIT guys.  Well, they did a little short for DC Nation using their CREATURE COMFORTS  interview style with DC Superheroes.  I thought it was great so here it for you to enjoy:
ART
Woo Hoo! I finished thumbnailing page 5!  Wow does that feel good. It totally feels like I passed a milestone on my personal project.  That was an unexpected amount of work for  1/4 of a page of script. Now I have five more script pages to thumbnail, and I think page 6 is almost as  complicated as page 5.  Come to think of it, I think every page except the last one is as complicated if not MORE complicated than page 5.  I've got a LOT of work to do.  I hope I feels as good after finishing each one as I did finishing this one: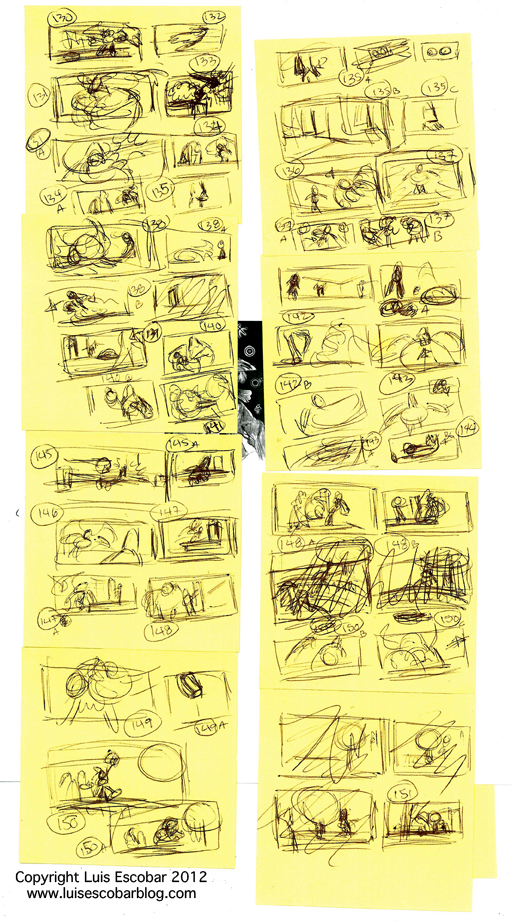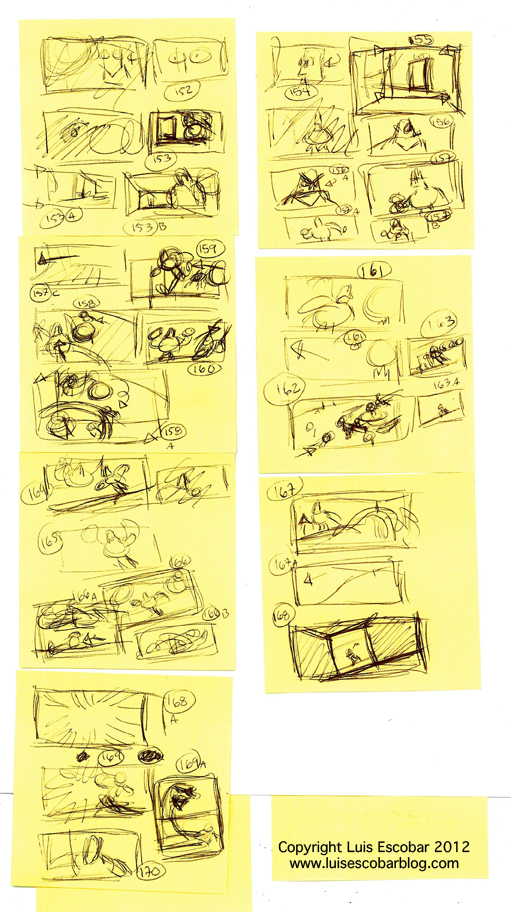 It's difficult to tell from my thumbnails but I screwed up some visuals earlier in the  script.  As written, I had the Lead Sorcerer, take out a sack with a living viper in it and stab it with a knife in order to cast a spell.  Well, I accidentally skimmed over that and didn't draw it.   When I realized what I had done I decided to go back and put it in, but as I looked at the shots, I realized it would have slowed things down.  I asked myself why it was important to show that.  It was simply to show that in order to cast his spells, that Sorcerer had to kill an animal.  Well, I wondered if it would be possible to show that same thing more simply somewhere else. The answer was yes.  So now, when I thumbnail the camera cutting back to the Lead Sorcerer in the next group of thumbnails, I'll have the Sorcerer holding a bloody knife in one hand and a bleeding dying viper in the other as he says his dialogue. Hopefully, you can deduce what happened from the visual without having to spell it out.  Once I board the shots officially, I'll see if this plan will work or not.
For more comic and stories written by me, CLICK HERE.

If you like what you read, please consider signing up to my rss feed.
Comments are appreciated as well.
I also have a store. Click Here and check it out.
If you would like to have a text ad on my site, click on the red BUY LINKS button under the Archives list.
And while you're at it, please Digg me too.
Writing this blog is almost a part time job for me. Tips are most welcome.
Post this "Back on board revisions. Passing a milestone on my project." image above on your blog/forum using following codes:
Website Code
Forum Code
Please Share this, if you like it: