It was my wife's birthday this weekend. Roughing out the cover again. 9/11 interview cartoons.
THE SIMPSONS NEWS
I managed to finish Act 1 on Monday morning.   I've been working on Act 2, pretty much for the rest of this week.  It wasn't as heavy a rewrite as act one and I'll be done by the end of the day today.  I'm not sure what I'll be doing on Friday though.  I hope I can relax a bit.
FAMILY
Sept. 11th was my wife Alesha's birthday.  So while everyone else in the U.S. is remembering the World Trade Center tragedy, my family is celebrating my wife's birth.
I GUESS everyone loves Alesha.  MAN, we had tons of people come by and to say happy birthday. We knew that some of our family and friends would be coming by.  It was going to be nice to have a few people over. Thinking the whole time that it would be maybe two or three people, but no, it was my in-laws and my parents and Alesha's best friends.  Our house got crowded REAL fast.  We didn't expect it.
It was very nice though. Especially since, Alesha can't really be out of the house while she recovers from her C-section.  She was very glad to have the company. She told me she had a good birthday.
Not only that, but many of her family members and friends got to meet baby Luke for the first time.
I was very happy to see that Alesha is so well loved.
VIDEOS
I saw these animated cartoons late last week.  They are animated audio recordings of people who are recalling friends and family who died on 9/11 at the World Trade Center.   It's so moving.  Very powerful stuff to watch. I though I'd share: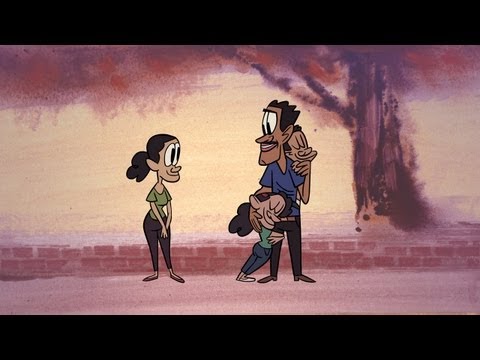 ART
I've returned to the small rough of the cover I'm working on.  Now that I've practiced a bit and have a few painting under my belt, I thought it was time to give the cover another shot.
First, I needed to make sure I could paint fire.  I took one of the reference pictures I took of a red towel I lit on fire in my back yard, and painted it: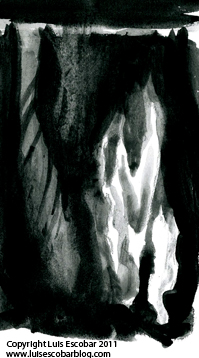 I was mostly concerned with the fire itself and didn't really try to make the towel look like the towel.  I think I got what I needed out of the painting.
Next I transferred my small rough pencils to the type of paper I'm going to use to paint on and I began the painting: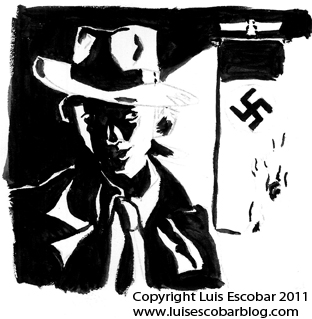 This is the very first pass.  I simply put in all the blacks. The next step will be to add in all the dark grays, then the light grays.  Once I'm done, I'll study what I liked and didn't like about the process. See what I could the better. IF it doesn't work out, I'll do yet ANOTHER rough. On the other hand, if I'm happy with it, I'll finally get started on the final painting.
For more comic and stories written by me, CLICK HERE.
If you like what you read, please consider signing up to my rss feed.
Comments are appreciated as well.
I also have a store. Click Here and check it out.
If you would like to have a text ad on my site, click on the red BUY LINKS button under the Archives list.
And while you're at it, please Digg me too.
Writing this blog is almost a part time job for me. Tips are most welcome.
Post this "It was my wife's birthday this weekend. Roughing out the cover again. 9/11 interview cartoons." image above on your blog/forum using following codes:
Website Code
Forum Code
Please Share this, if you like it: