NOW I can talk about what I did in Simpsons show 500. Discovering the limits of my drawing ability.
THE SIMPSONS NEWS
San Diego Comic Con happened last weekend and some upcoming Simpsons news came out about this upcoming season on The Simpsons Panel.  This means, I finally know what I can actually share here on the blog. Especially since, Al Jean has talked about it publicly.
CLICK HERE for the info.
So here goes:
Last week I finished up working on the Moe's bar rag episode.  I only worked on Act 1.  It was a very big act going through a lot of eras in time.   Very exotic but also it was a very big Act.  There was quite a lot of revisions on the act so it took me a while to get them all done.
This week I'm working on…well, it's an episode Al Jean didn't talk about so I can't write about it right now.   The act I was given has a lite rewrite though, and the next Act I'll be working on, also has a lite rewrite.  But I've been assigned the Couch Gag  as well, and it's pretty elaborate so I'm trying to get the Acts done as soon as I can so I can get to the Couch Gag.
Okay, so now I can tell you what I was working on for show 500. In that show, I had to board the part where the Simpsons  go to the secret town meeting that want to kick them out of town.  It was MEANT to be shown at Comic Con which is the reason I had to get it done so fast. They wanted a working story reel for the Con. Of course, it turned out that they ended up NOT showing it.  DOH!
Oh well.
ART
It's painful when you find the limits of your drawing ability.   You don't expect to find them and your sitting there drawing like you usually do and suddenly,
BAM!
"Wow, nothing I do is coming out like I want it to."…draw…draw…draw…"Uh,…I can't seem to get this to look right."…draw…draw…draw…"Oh my gosh! I CAN'T do this! I haven't got the skill yet!"
This is what happened to me this week as I tried my experimenting with a final look for the book cover I'm working on.   Taking the mock up I did of the cover, I reduced it down about 60%. Then I took some tracing paper and began experimenting in order to see what medium I could use to do the final version of the cover. I also took out the value thumbnail I did and used it as a guide.
At first I began with just gray markers on tracing paper but I found that I couldn't get it to work.  I used ink and marker in one, just to see if it would help, and it didn't.  Then I thought perhaps I should ink it all and use the marker just as a flat tone. I drew small sketches of only the face but it didn't work either. It was smeared too much. So in the end, I concluded that markers and tracing paper where not a good combination. I also, only had two shadeds of gray markers, which didn't help.
Then I thought, okay tracing paper takes pencil very well, and I'm pretty sure I can add value to a pencil drawing. I mean, I've been doing it since high school.   So I sit down and start doing it, only to have it look AWFUL.  I'm trying to add the tone and it's not looking good at all. It 's just too "muddy". I'm going for "real" but just a tad stylized.  It's not looking like that at all and I don't understand why.
What am I doing wrong?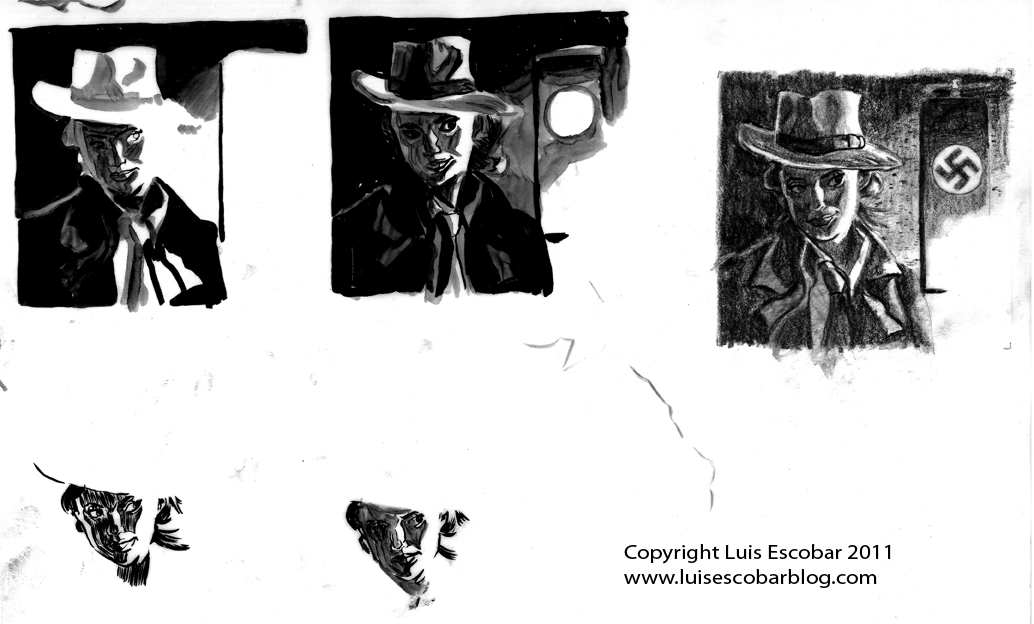 I think, part of the problem is that, I might not know exactly what values I want the actual face of the woman to have.  I DON'T want it to be black like it is in the thumbnail, but I need it to be dark so that it's the place where the light and the dark values contrast the most. As it is now, the values of the face are all over the place.
I haven't given up but I've reached a point where my skill level is going to have to make a jump in order for me to move forward.
For more comic and stories written by me, CLICK HERE.
If you like what you read, please consider signing up to my rss feed.
Comments are appreciated as well.
I also have a store. Click Here and check it out.
If you would like to have a text ad on my site, click on the red BUY LINKS button under the Archives list.
And while you're at it, please Digg me too.
Writing this blog is almost a part time job for me. Tips are most welcome.
Post this "NOW I can talk about what I did in Simpsons show 500. Discovering the limits of my drawing ability." image above on your blog/forum using following codes:
Website Code
Forum Code
Please Share this, if you like it: