Simpsons season 22 will have live action puppet Simpsons. Winged ape. So you want to know some design principles?
THE SIMPSONS NEWS
Yes, puppets. I can FINALLY say something about it because it's in the Simpsons press release below.  There's going to be an episode of the show where one of the acts will basically be a Simpsons puppet show.  When I first heard about it from the director, I got very excited.  I really can't wait to see it.  The act was storyboarded here so that it could be given to the studio doing the work.  Very cool.
I'm familiar with most of the shows written about below.  Some more than others.  I might be able to expound a tiny bit about some of these shows below if you want to ask a few questions:
Lea Michele, Cory Monteith, Amber Riley, Hugh Laurie, Halle Berry, Ricky Gervais, Daniel Radcliffe, Jon Hamm and Martha Stewart are among the guest voices in the upcoming 22nd season of THE SIMPSONS premiering Sunday, Sept. 26 (8:00-8:30 PM ET/PT) on FOX.In "Elementary School Musical," the season premiere episode, MARGE (Julie Kavner) sends LISA (Yeardley Smith) to a performing arts camp where artsy counselors (guest voices Jemaine Clement and Bret McKenzie of "Flight of the Conchords") and fellow musically inclined campers (guest voices Lea Michele, Cory Monteith and Amber Riley of GLEE) inspire her to embrace her creative side. After she returns to Springfield, Lisa becomes restless with her ho-hum suburban lifestyle and catches the first bus to Sprooklyn in hopes of reconnecting with her inner hipster.
This fall, British imports Hugh Laurie (HOUSE) and Daniel Radcliffe ("Harry Potter and the Half-Blood Prince") provide guest voices in the 21st annual "Treehouse of Horror XXI" Halloween spook-tacular. Later in the season, actor Jon Hamm ("Mad Men") voices an FBI supervisor in "Donnie Fatso"; and Facebook creator Mark Zuckerberg, baseball legend Mike Scioscia and sports writer Bill James all lend their voice talents to "MoneyBart." Lifestyle guru Martha Stewart spreads holiday cheer as herself in "The Fight Before Christmas," an episode that also features live-action puppets.

Additional guest stars stopping by Springfield this upcoming season include actors Kristen Wiig ("Saturday Night Live"), Paul Rudd ("Dinner For Schmucks"), Rachel Weisz ("The Lovely Bones") and Alyson Hannigan ("How I Met Your Mother"); NASCAR driver Danica Patrick; comic duo Cheech & Chong; and NBA Hall of Famer Kareem Abdul-Jabbar. Additionally, Joe Mantegna ("Criminal Minds") returns as FAT TONY.

Now the longest-running comedy in television history, THE SIMPSONS immediately struck a chord with viewers across the country as it poked fun of itself and everything in its wake. With its subversive humor and delightful wit, the series has made an indelible imprint on American pop culture, and the family members have become television icons. The series features the voice talents of Dan Castellaneta, Julie Kavner, Nancy Cartwright, Yeardley Smith, Hank Azaria and Harry Shearer.

THE SIMPSONS is a Gracie Films Production in association with 20th Century Fox Television. James L. Brooks, Matt Groening, and Al Jean are the executive producers. Film Roman is the animation house.
ART
(For those of you coming in late to these posts, if you want to read what my project is about, CLICK HERE to learn about the general world the story takes place in, and CLICK HERE if you want to know the story itself.)
I've come to the realization that I'm not really writing out all my process. Some of the thinking behind the drawings I do are simply not written out.  From now on I'm going to try to put this info in.
Okay, so here I go. Why do I keep making so many thumbnails of the same scene and stuff?  Well, I'm looking for the right "storytelling composition".  If you notice in the sketches below as well as some of my previous blog "composition thumbnails" (feel free to look at earlier posts), I've attempted to split the comps into three layers; foreground, middle ground, background. What I've chosen to PUT in does positions, depends on what I want to say and how I want to frame the composition. Also, if I wish to finish one of these thumbnails, I hope to give each "ground" it's own tonal value between darkest dark, mid tone and lightest light (more on that some other time, as I get to a more finished state. Even though there's already a small indication of this in previous thumbnails).
I've been mostly trying to get the main character Rob, to look vulnerable.  I've chosen to do this by trying to make him look small in contrast to something much bigger in the picture. Either by, making one object bigger or by grouping multiple objects into a larger bigger shape. Only once did I break this theme in a thumbnail and it actually made him look a bit too heroic so I've chosen not to try that again.
For example, in the first thumbnail below, I drew the Sorceress in the extreme foreground. Making her look bigger than Rob.  I didn't like it though because  I didn't want her to be the only bad guy in the drawing and her pose was kinda ugly too.  In the second thumbnail below I chose to have Rob be in the middle ground being dwarfed by the enormous shape the monsters create when they are grouped together in the background. In the foreground I put a tentacle or the end of the giant snake, threatening to grab him. It also points to Rob compositionally. In fact, you can see how all the lines in the drawing are all curved to point to Rob who is the center of interest.  Even the way Rob is standing follows the rhythm of the composition. Although if I was to finish the drawing, I would probably push his pose a bit more, in order to better emphasize this. Below the monsters, I have The Sorcerers directing their them to attack. If anything, The Sorcerers' size bothers me because they seem small and non threatening.
When designing the backgrounds (in previous posts), I was very aware of trying to include shapes within the design that could be used as good "framing" foreground elements (CLICK HERE for a page of examples of what I'm taking about). I was also taught to try to avoid having any lines parallel to the picture frame when designing a background or a composition.  The exception to that rule being when you want to draw something more "iconic" or intentionally dull.  Also, most comedic staging, will often be very flat since the joke is the most important thing.
If you have any questions about anything I've written above, please feel free to ask.
Below, I will write a little about character design.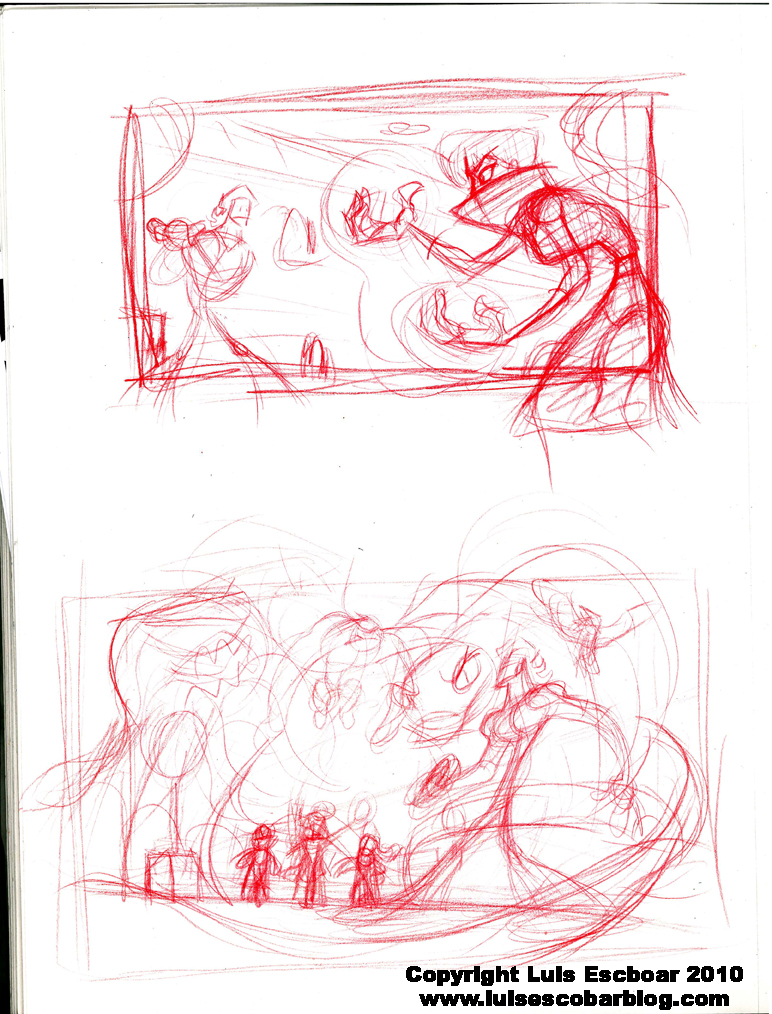 The sketch with the monsters above, threw me on a small tangent. It seems I had forgotten what monsters I was going to use in my cartoon, so I reread my outline.  Realizing I had written  a flying ape monster, I suddenly got excited about drawing one. I immediately Googled "gorillas" . Below is what I ended up drawing: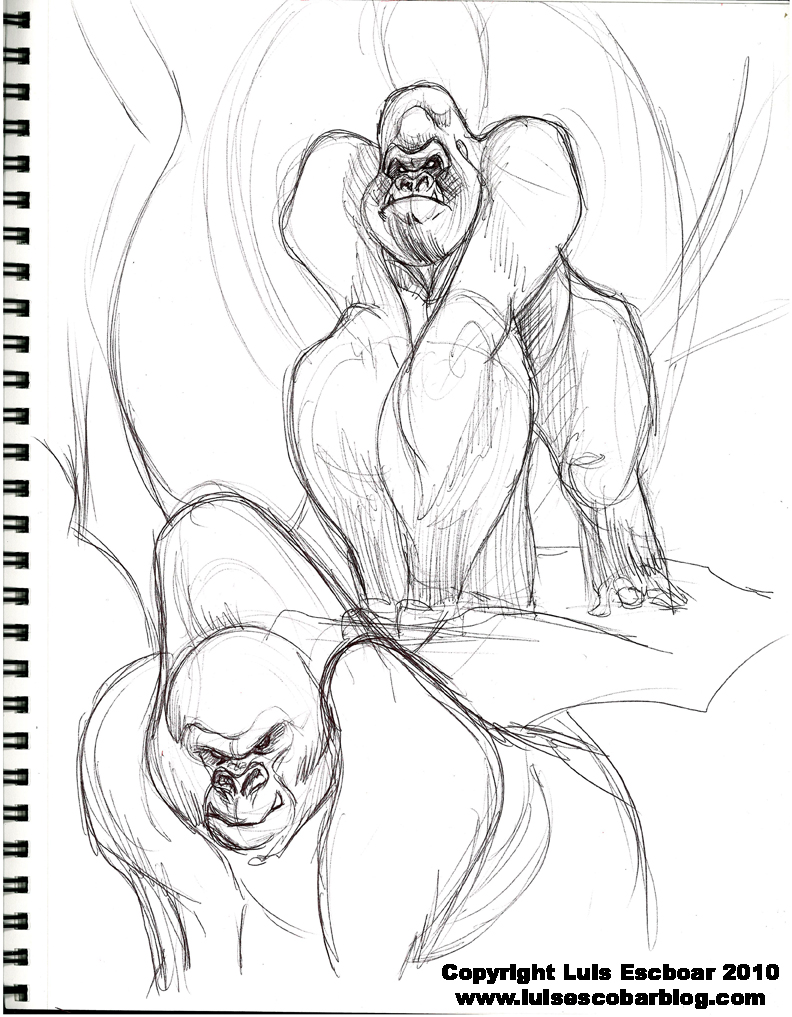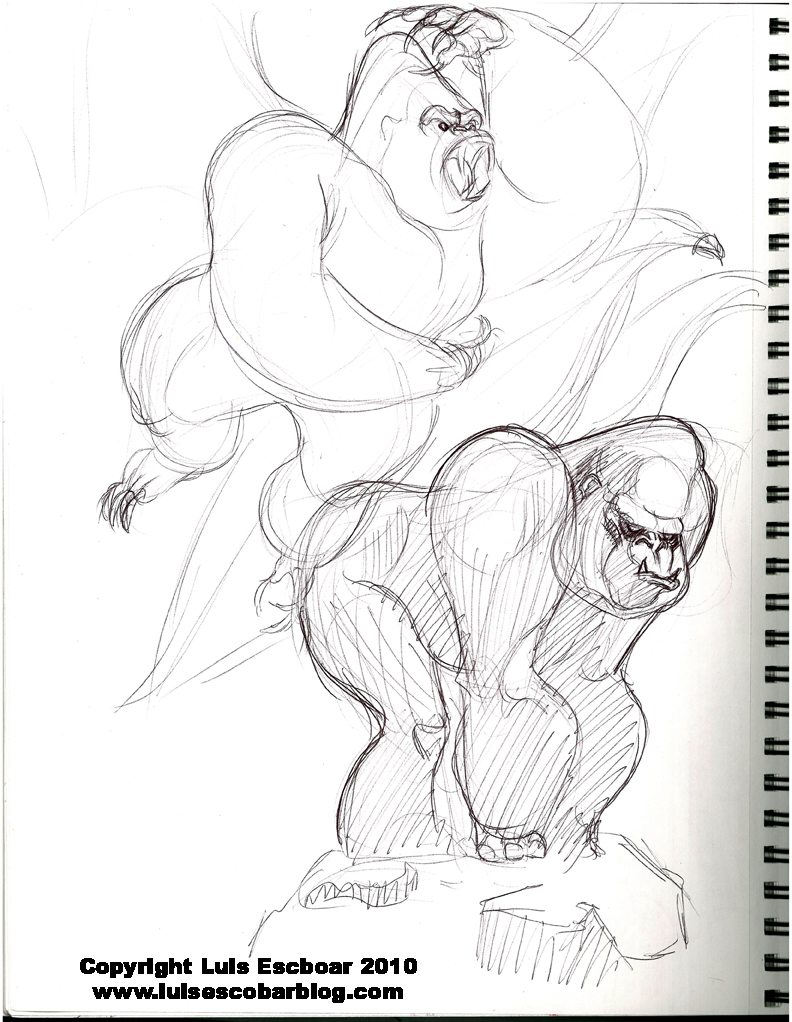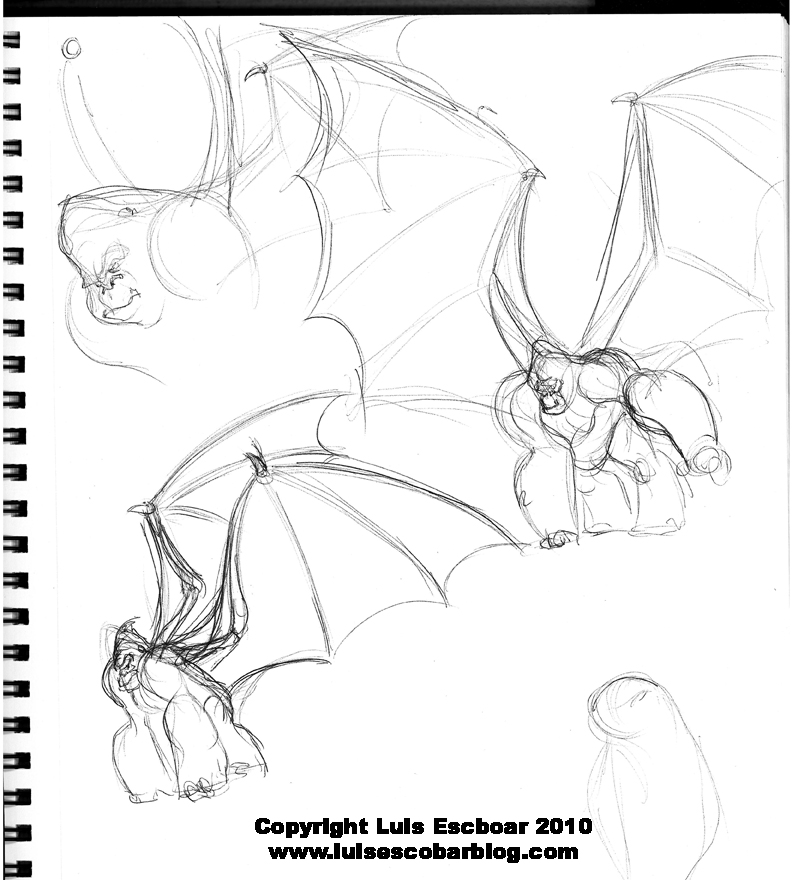 When I try out designs, I'm looking for interesting shapes.  I'm also looking for contrasting sizes within those shapes.  When I look at a photo, I don't try to copy the photo so much as try to push the shapes I see in order to come up with a unique design.  Sometimes it works, other times it needs different variations.  The trick is to not have everything be even. For example, in the case of the ape above, I wanted the forearms to be longer and bigger than the upper arm in the first and last pages. In the middle page I experimented with the forearm being shorter.  I was also working on the contrast of having an enormous pointy head and a tiny face for interest. When it came to the torso, I tried to make sure it was either longer or shorter than the hind legs. In order to avoid line monotony, I also try putting straight lines across from curved line. Even if the straights and curved lines are "complex". I also attempt to avoid parallel line in favor of tapered ones. Parallel lines in a character are often considered boring and unnatural.
It's NOT about how well rendered a character is or how many doodas you put on the character.  Shape and "well balanced" shape CONTRAST is key to good character designs.  Rhythmically putting these things together makes a design sing.
Once you have that, make sure you give your character personality instead of just having it standing there like a robot. I recommend taking a good look at character designs in THE INCREDIBLES.
These are the things I look for in design AS I design. It's the reason why I sometimes have the same figure on a page over and over. I'm just working on slight variations of shape contrasts and balances. If you look at some of my previous sketches of characters, you might be able to see what I'm trying to working out. Not everything I put on the page  "works", which is the point of the exploration. To find what DOES.
I recommend looking at some "art of" books to see how other artist approach these things. You'll see them using the same principles. If you have any questions of what I was taught about character design, please feel free to ask.
For more comic and stories written by me, CLICK HERE.
If you like what you read, please consider signing up to my rss feed.
Comments are appreciated as well.
I also have a store. Click Here and check it out.
If you would like to have a text ad on my site, click on the red BUY LINKS button under the Archives list.
And while you're at it, please Digg me too.
Writing this blog is almost a part time job for me. Tips are most welcome.
Post this "Simpsons season 22 will have live action puppet Simpsons. Winged ape. So you want to know some design principles? " image above on your blog/forum using following codes:
Website Code
Forum Code
Please Share this, if you like it: