Started on this year's Halloween show. Macross Frontier episode 1. More script thumbnails.
THE SIMPSONS NEWS
This week I'm working on the Halloween episode for this year.  I'm a week late since I should have started it last week.  I managed to turn in my Couch Gag Friday morning of last week.  I didn't think it would take that long.
The assignment I was given is pretty involved.  So far it's taken me two day to rough out my first section.  I hope it won't take as long when I do the second part of my assignment.  I hope we get, at least, the two weeks this episode needs us for.
VIDEO
In March 2010, I wrote about a show I really enjoy. Namely, MACROSS FRONTIER.  I've been watching it again.  Mostly as I board my film.  It helps me to have something I've already seen playing in the background as I board.  That way, if I get tired, I can look up and see something interesting, and perhaps, find inspiration for shots or something.  Since it's not available for purchase in the U.S. I've been watching it online through a fan subtitled version.  I'd thought I'd share it, since I enjoy the show so much.
Here's episode 1. Enjoy:

Watch macross frontier 1 in Animation | View More Free Videos Online at Veoh.com
ART
I managed to  finish two pages of thumbnails this week.  I hope I can do that more often.  I'll be done sooner that way.  So far, I've had a lot of talking head shots.  It's been getting more and more difficult to come up with interesting shots.  I'm not opposed to reusing shots (which I have done) but I still needed to come up with new shots, just to add visual interest: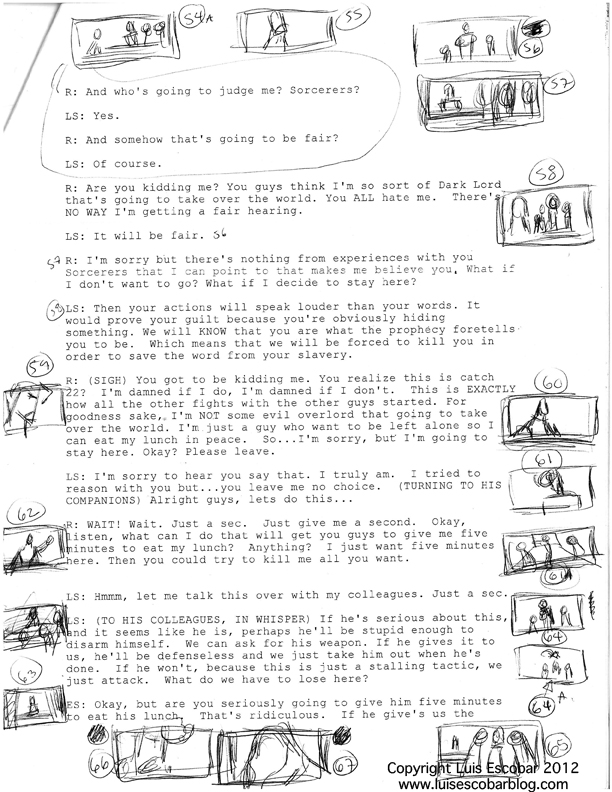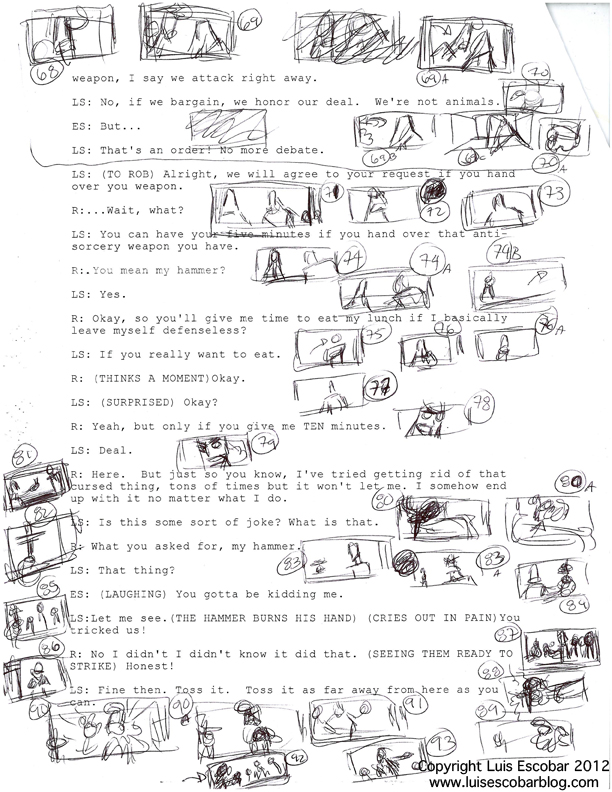 There's a tad bit more talking heads, on the next page, but by the end of the page, the action part will begin.  I think that's when the thumbnailing will start REALLY getting difficult.
For more comic and stories written by me, CLICK HERE.

If you like what you read, please consider signing up to my rss feed.
Comments are appreciated as well.
I also have a store. Click Here and check it out.
If you would like to have a text ad on my site, click on the red BUY LINKS button under the Archives list.
And while you're at it, please Digg me too.
Writing this blog is almost a part time job for me. Tips are most welcome.
Post this "Started on this year's Halloween show. Macross Frontier episode 1. More script thumbnails." image above on your blog/forum using following codes:
Website Code
Forum Code
Please Share this, if you like it: