The new way we do the shows. Munchkin helps me wash dishes. Another Squirmish Wars game
THE SIMPSONS
Monday and Tuesday was crazy deadline days. It was all about scrambling to get out work done.  On Thursday night, of last week, there was a story reel screening of the show in it current unfinished state (which was about 80% done).  From that, we got a lot of notes of things to fix.
Our new process, (which I've yet to explain) is this: The show has been split up into two different crews. The first crew comes on first. It's a story reel crew made up of three artists,  the Director and the Assistant Director (A.D.). The second crew, that comes on after the story reel is finished, is made up about five completely different people, the same Director and the same A.D., who do the traditional Character layouts that we've done for years. This crew gets eight weeks to finish the show and get it ready for shipping.
I am a story reel artist. Our job is to make a story reel to show the writers and producers. The story reel is meant to be a slightly plused up moving storyboard. The idea is to show the writers and producers how a show "plays" (how a show is working) so that if there's  big changes, there won't be a lot of effort lost.
The idea is sound. It's very similar to the process we had in the movie, BUT (there's always a "but") there are some small difficulties.
One is that, not all the boards we work off of are of the same quality. Some are great and we could do our job of plussing the board. Others are so rough and sometimes aren't even "playing" clearly, that we have to re-draw everything before we can even begin plussing anything up. We haven't got the time for those issues.  The last show I worked on, there was a section in my board that was in such bad shape, I had to come up with shots and re-work the board for almost two of my three weeks, just to get the board to "play" right.  When I asked the director how he wanted me to fix it, he told me, "I don't know. Come up with something and then show it to me." On the one hand, that was great because he was trusting me so much and that gave me a lot of freedom to "save" the sequences.  On the other hand. I had a ton of other scenes to get to and didn't have the time to be fixing things like that.
The second difficulty that we've run into is that, in practice, the producers and writers, expect the story reel to look as clean and solid as an animatic.  Which is impossible since an animatic is was done by at least five to seven artist in about five to six weeks, not three artist in three weeks.  This always puts us in the dilemma of second guessing ourselves about how clean ans pretty we're suppose to be working.  The cleaner and prettier, the more time it takes to draw. Time we don't have.
The third difficulty is, no overtime.  We get done in the time we are given or not at all.  No staying late. The pressure is crazy.
There are a few more but I don't want to keep complaining.  It's not all bad.  There are a quite a few things I really LOVE about he process. We get a lot of freedom to put in our input as to how things should "play out" in the show.  It puts all the artist on the story reel crew in the position of an A.D.. We're basically in charge of directing out section.  I like that.  It's a very creative thing.  Especially since what we finish doesn't even go directly to the Director but goes straight to the editor.  Everyday we get to see the work in progress on the reel and see how the shots we finished the day before works in the context of the show.  This means that often  we can make slight changes the next day if we feel like the shot of shots we did aren't "playing" well. It's pretty cool.  The Director also has a lot more control of the final product because he has a meeting with the editor every evening, sees what working what's not and can change things on the spot or make a note of the things he would like an artist to add or change the next day.  By the end of the process, the story reel is more in line with the Director's vision than any animatic had ever been. Personally, I like the process. It feels far more collaborative.  It's just too bad we get practically no time to do our thing.
FAMILY
Munchkin always wants to help me do things.  She sees me doing something like cooking or doing the laundry and she wants to join in.  She's at an age when she wants to try out new things.  Well, she saw that I was going to start washing the dishes this weekend and she decided she wanted to help me out.  I let her.  I went and got her step ladder and she proceeded to rinse out the dishes with me and handed me the ones she rinsed while I put them in the dishwasher.  Surprisingly, it was very helpful.  Usually when she "helps" me, it whatever we're doing takes much longer to do because she's just a little kid and can barely manage  what she needs to do, but not this time.  I took car of the knives, pots, and dishes that had very stuck on food, while Munchkin took care of most everything else.  She did very well. In fact, she did SO well that the next day I asked her to help me wash the dishes we weren't able to get to the day before.
I doubt her interest in washing dishes is going to last long but I might as well take advantage while she still wants to do it.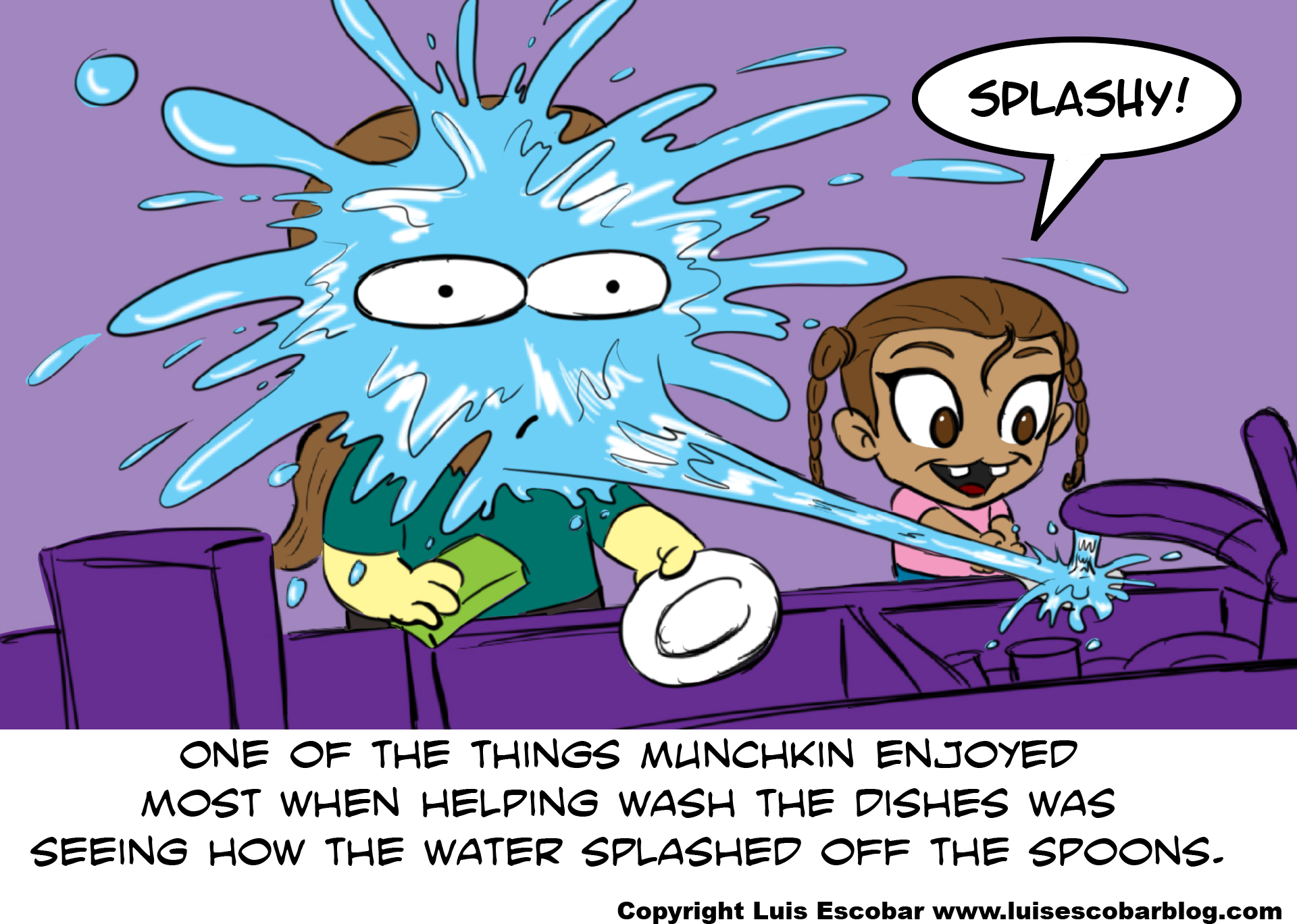 BOARD GAMES
Played  Skirmish Wars: Advance Tactics again with Andy last Friday. We had a blast.  The game is just so good.  The only problem with it, is that it takes too long to play.  It's fine when your playing the video game because you can save it but when your head to head at a table, it's a bit too much. In order to try and speed the game up, this time, we  tried out the whole, "first person to capture so many units wins" rule, made popular by the Command and Colors games. It didn't work out as well as I had hoped.  It still made the game long and it almost caused a stalemate because there was a point during the game that neither Andy or I wanted to move, in case we lost a unit.  In the end, we decided that next time, we would borrow a rule from Heroscape and play a specific amount of agreed upon turns. After those turns are over, we would then count "victory point" according to a predetermined group of parameters. We'll see if the game plays faster that way.
If you like what you read, please consider signing up to my rss feed.
Comments are appreciated as well.
I also have a store. Click Here and check it out.
If you would like to have a text ad on my site, click on the red BUY LINKS button under the Archives list.
And while you're at it, please Digg me too.
Writing this blog is almost a part time job for me. Tips are most welcome.
Post this "The new way we do the shows. Munchkin helps me wash dishes. Another Squirmish Wars game" image above on your blog/forum using following codes:
Website Code
Forum Code
Please Share this, if you like it: