What in the world is a "traditional Catholic"?
THE SIMPSONS NEWS
Under the gun again. We are really behind on the show and Act I has to be shipped by next Friday. Act II gets shipped the following Friday and Act III the Friday after that. Right now, it doesn't look good. I've been working overtime this week just to try to get as much done as possible. Fixes that seemed simple at the time, have turned out to be really complicated and time consuming. It's gonna be a difficult couple of weeks.
ANSWERING COMMENTS
Well, Bill asked me a really interesting question on the last post.
"I was talking with a co-worker who kept correcting me that he was a "traditional Catholic", not a Catholic. That intrigued me, isn't the Roman Catholic Church about as traditional as you can get in the world of Christianity? Are there distinct differences between Catholic and traditional Catholic?"
My advice to you Bill, in order to get the best answer, is to ask your co-worker what he means by "traditional Catholic." Only by doing that will you get the clearest answer because, you are right, Roman Catholicism is about as traditional as you can get.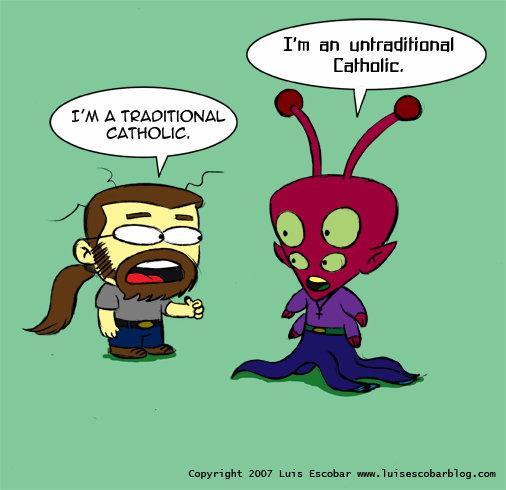 Having said this, I can't help but speculate myself.
The first thing that comes to mind is that this person is actually not a Roman Catholic at all but belongs to the schismatic sect of the Society of Pius X. *<= I've crossed out the first sentence of this paragraph because it is in error. For the reasons why, please read my blog post: BattleLore, Harry Dresden, and Catholics.* This is the sect that Mel Gibson belongs to (I think). This sect rejects the changes brought about in the 1960s by the Vatican II council. As strange as this may seem, the Society of Pius X isn't angry at the Church because it's too Dogmatic, it's angry because it's not Dogmatic enough. (Although, as of the time of this writing, if you go to their website, their home page says that they "…profess filial devotion and loyalty to Pope Benedict XVI." On further investigation I found that this just means that they are in dialog with the Pope and are actually hopeful that they are close to mending the shism).
The second thing that he may mean, might be that he just happens to like pre-Vatican II trappings. That is to say, he likes the aesthetics of how the Church used to do things and, without being schismatic, prefers pre-Vatican II things. I can sympathize with this view since I hold to some of these views myself. I find that I like to go to the occasional Tridentine Mass (pre-Vatican II Latin Mass), I like Latin as well and I study it when I get a chance, I also like reading Aquinas and books on the Trivium and logic, etc. Unfortunately some of the Catholics that think this way tend to be a bit "militant" and have gotten a reputation, even within the Church, of being Catholic Fundamentalists (yikes!).
Another thing he could mean is that he considers himself a Catholic who tries his hardest to live out his faith as a well informed obedient Catholic (like Blessed Mother Teresa of Calcutta). As opposed to many Catholics who are Catholic in name only but could care less about the Church and it's precepts. These types of Catholics are such archetypes within the faith, that they've been given goofy nicknames like: "Cafeteria Catholics" (who get their name from the way they pick and choose what doctrines they will follow and which they won't, as if they were picking food from a cafeteria) or "E.C. Catholics" (who get their name from the fact that they only go to church on Easter and Christmas). Of course, not all "uncommitted or semi-committed Catholics" fit within the confines of these two categories. Many, through no fault of their own, just don't know any better or haven't really given much thought to their faith and what it means, even though they sincerely think they have (like I once did). It might be that by calling himself "traditional" your co-worker might be trying to distinguish himself from these other types of Catholics.
Another thing he might mean, and the least likely, is that he considers himself a "catholic" (notice the lower case c.) The word catholic (katholikos from katholou in greek) means "throughout the whole, i.e., universal". Your co-worker might be a "protestant" (non Catholic Christian) who has become aware that the early Church thought of itself as catholic and is not afraid to use the term. I have a protestant/Christian friend who does this very thing.
Or finally, as my friend Ely said after I showed him my blog drawing,
"Maybe he's such a 'traditional Catholic,' he's Jewish!" (Jerk, upstaged my joke. Wish I'd thought of that.)
Let me know what you find out Bill.
If you like what you read, please consider signing up to my rss feed.
Comments are appreciated as well.
I also have a store. Click Here and check it out.
If you would like to have a text ad on my site, click on the red BUY LINKS button under the Archives list.
And while you're at it, please Digg me too.
Writing this blog is almost a part time job for me. Tips are most welcome.
Post this "What in the world is a "traditional Catholic"?" image above on your blog/forum using following codes:
Website Code
Forum Code
Please Share this, if you like it: