Simpsons co-worker in surgery. Met my nephew. Crazy for Mickey Mouse. Friend's site
THE SIMPSONS NEWS
Another slow week at the show.  Which is great.  Better than a hectic stressful, frustrating week.  This weeks big news has little to do with the show and a little bit more to do with one of my fellow co-workers.  He recently went on voluntary hiatus in order to go into surgery yesterday for something he has to take care of.  If all goes well, he'll be in a loooot of pain but he will be in bed recovering for four weeks and hopefully he'll be fixed.  Please pray for him and a fast recovery.
FAMILY
So we FINALLY got a chance to go meet my new nephew Paolo.  Took us long enough.  He's sooo little.  You forget how small new borns are.  He seemed like a quiet, calm, little baby.  Alesha held him and she was LOVING it.  We got to see a slide show of pictures that documented when he was born, as well as the days since.  It was really nice.  He's got so much hair on his head.  I couldn't believe it.  Munchkin and Dante were bald for so long when they were smaller.  Paolo has more hair than Dante has now. I was very impressed.  Deborah (my sister-in-law) looks great and seems very happy.  I'm very glad everything is going so well with them.
It's very strange for Alesha and I to have "the big kids".  Our kids aren't "the babies" anymore.  Seeing my nephew and pictures of my niece, really opens our eyes to the position that our kids hold in the family now.  It's difficult to see Dante as being a role-model of any kind though.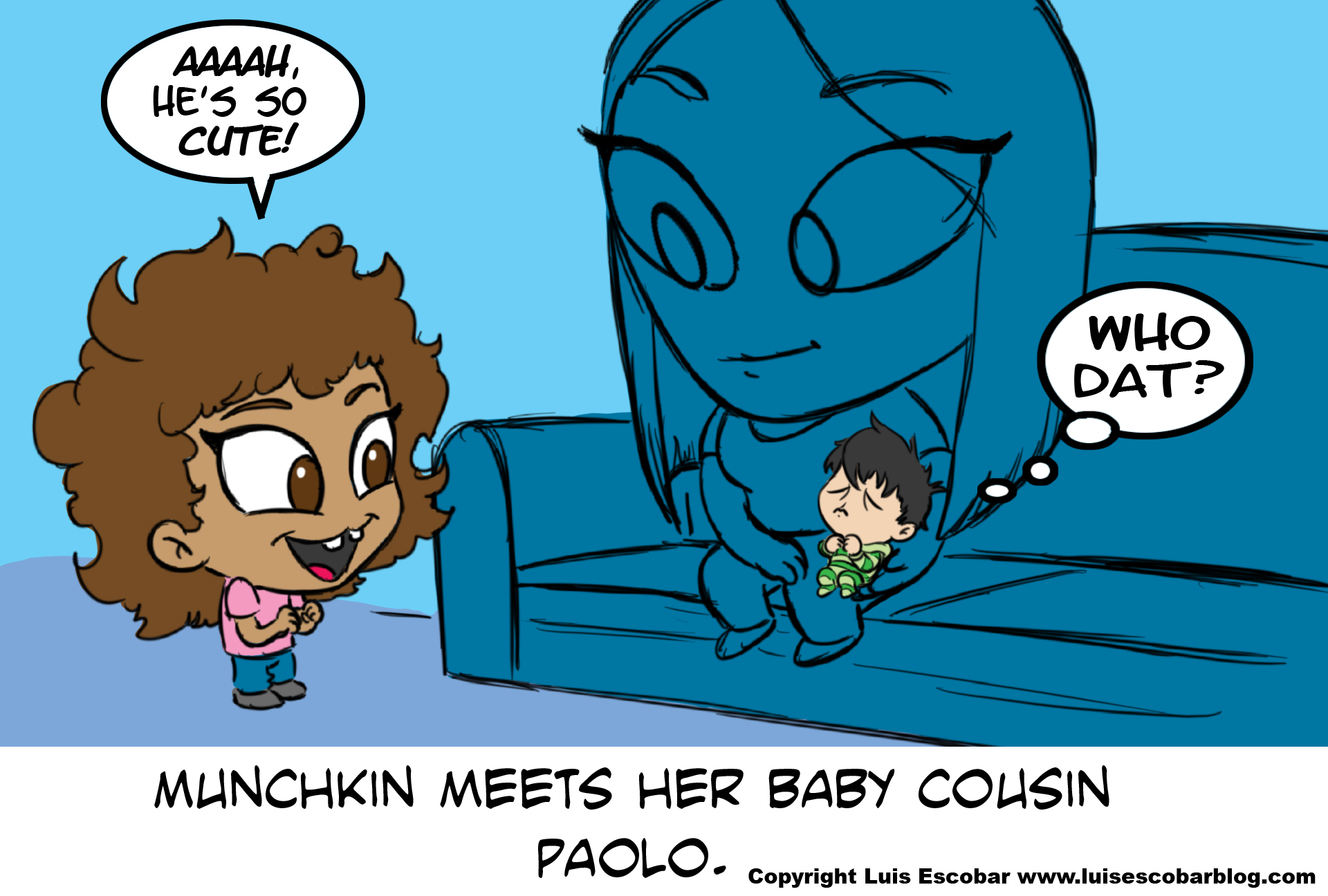 Hurray for little Paolo!
FAMILY
Okay, so that whole superhero cartoon thing didn't last more than a week with Munchkin.  Not after she discovered I had a collection of old Mickey Mouse cartoons on DVD. The cartoons are so old, that Mickey still has dots for eyes.  She loved them.  She wanted to watch them anytime she could.  If she was at home, she asked me to put them on.  It was a non stop Mickey marathon.  Thankfully, I think she finally got sick of them because lately, she hasn't asked to see them.
On the other hand, I have to say that I'm glad she asked to watch those cartoons.  I've had that DVDs for years and never put them on and watched them.  Those are some really great cartoons.  I'm more an old Warner Brothers cartoon fan, they appeal to me more and I think they are funnier, but those old Mickey cartoons, though not as funny, are very entertaining and are animated beautifully. Thanks for making me aware of them Munchkin.
WEBSITES
Speaking of Disney cartoons, my friend Raul Aguirre, ex-Disney animator, Character designer, storyboard artist, and animated show director extraordinaire has put up a website showing off his awesome artwork.  Check it out.  It has the animated cartoon he co-created, co-executive produced, Wrote, Directed, Storyboarded, Slugged, voice directed, and voice acted in, for Nickelodeon.  Free entertainment.  Who can pass that up.
Way to go Raul! Love the site.
If you like what you read, please consider signing up to my rss feed.
Comments are appreciated as well.
I also have a store. Click Here and check it out.
If you would like to have a text ad on my site, click on the red BUY LINKS button under the Archives list.
And while you're at it, please Digg me too.
Writing this blog is almost a part time job for me. Tips are most welcome.
Post this "Simpsons co-worker in surgery. Met my nephew. Crazy for Mickey Mouse. Friend's site" image above on your blog/forum using following codes:
Website Code
Forum Code
Please Share this, if you like it: