Working hard on special project. Played Sorry! Sliders with my kids. 100 Simpsons episode, all at once.
THE SIMPSONS NEWS
I've been working on the "special project" most of the week.  It was killing me.  I was handed some of THE most complicated scenes in the project.  They were technical nightmares.  To make matters worse, I had to make Quicktime movies of the scenes to show to the director, but the scenes where so complicated that I couldn't do it. I didn't have the program to put all the pieces of the scene together to be able to make movies out of them.  On top of that, BECAUSE I couldn't put all the elements together to test out my scenes, I didn't even know if the pieces of the scenes where working together as intended.  So even after I turned the scenes in, I wasn't sure how good a job I did. It was nerve racking.
I was stressed and worried most of the week, including the weekend.  I haven't worked so hard on the show since I boarded show 500.  I'm a bit wiped out, and a bit brain dead.
BOARD GAMES/FAMILY
My kids like playing board games. I don't know why…OKAY maybe I do.  Anyway, they often ask to play a board game.  Sometimes they ask me to play, and I do, but most of the time I don't. If I don't, it's because I've got some other thing I need to do at the time they ask.
I enjoy spending time with my kids playing a board game, but I've found that I don't have FUN playing board games with my kids.  I enjoy being with them but the playing is often unsatisfying.  The reason for this, is because I usually can't  be very competitive playing board games with my kids. I can't "do my best" in the games we play.  I can't "play to win". I can only, "play for the sake of playing".  I always have to hold back and help the kids learn and generally, try to help them have fun.  This isn't a bad thing, but it's really not the reason I like playing board games.  I like the challenge, the thinking, the back and forth between everyone at the table. None of which I get when playing with my kids.  I mean, they're little kids, what do you expect?
Well, this weekend Elizabeth (5 years old) and Dante (4 years old) asked me to play a board game with them. Since I had the time, I did.  We played Sorry! Sliders.
Here's the official description of the game:
Slide, COLLIDE and SCORE TO WIN!
Grab your roller pawn and take aim – then skillfully slide it down your track onto the target board! A good slide could score big points, but watch out! An opponent's pawn may slam your pawn onto a Sorry! space – and out of the game!
This is a new twist on the Sorry! franchise with 4 different ways to play:
Race For Home
Instant Home
Instant Sorry!
Danger Dots
I've played this game with them before.  The first two times I played the game with them, I read the rules and tried to get the kids to play the game by them. It didn't work out.  The kids where too young. Almost two years younger than they are now.  Ever since then, when I play this game with them, we just ignore the rules and slide the pawns around the board for no good reason other than to do it. It's simply an activity.
Well, THIS time, if the kids wanted to play the game, I wanted to actually play the game by the rules. SO I told them I would read the rules and we would follow them. I read them, and explained the rules to the kids.  They understood what I was telling them and we began to play.  WE HAD A BLAST. The kids followed the rules and it was great.  Not only that but I didn't hold back (much). I was truly trying to win the game.  The game is of such a chaotic nature though, that it could be anyone's game.
The final tally after playing three games was:
Elizabeth won 2 games
Dante won 1 game
I won, no games.
I lost every game. That was awesome. I lost and I was trying to win.  I had so much fun. The kids had so much fun. It was great. We cheered and laughed and just had a good time.  And the kids understood the rules and played by them. That was great.  I hope this is a taste of things to come. I hope we can find another game in the collection that we can do the same with.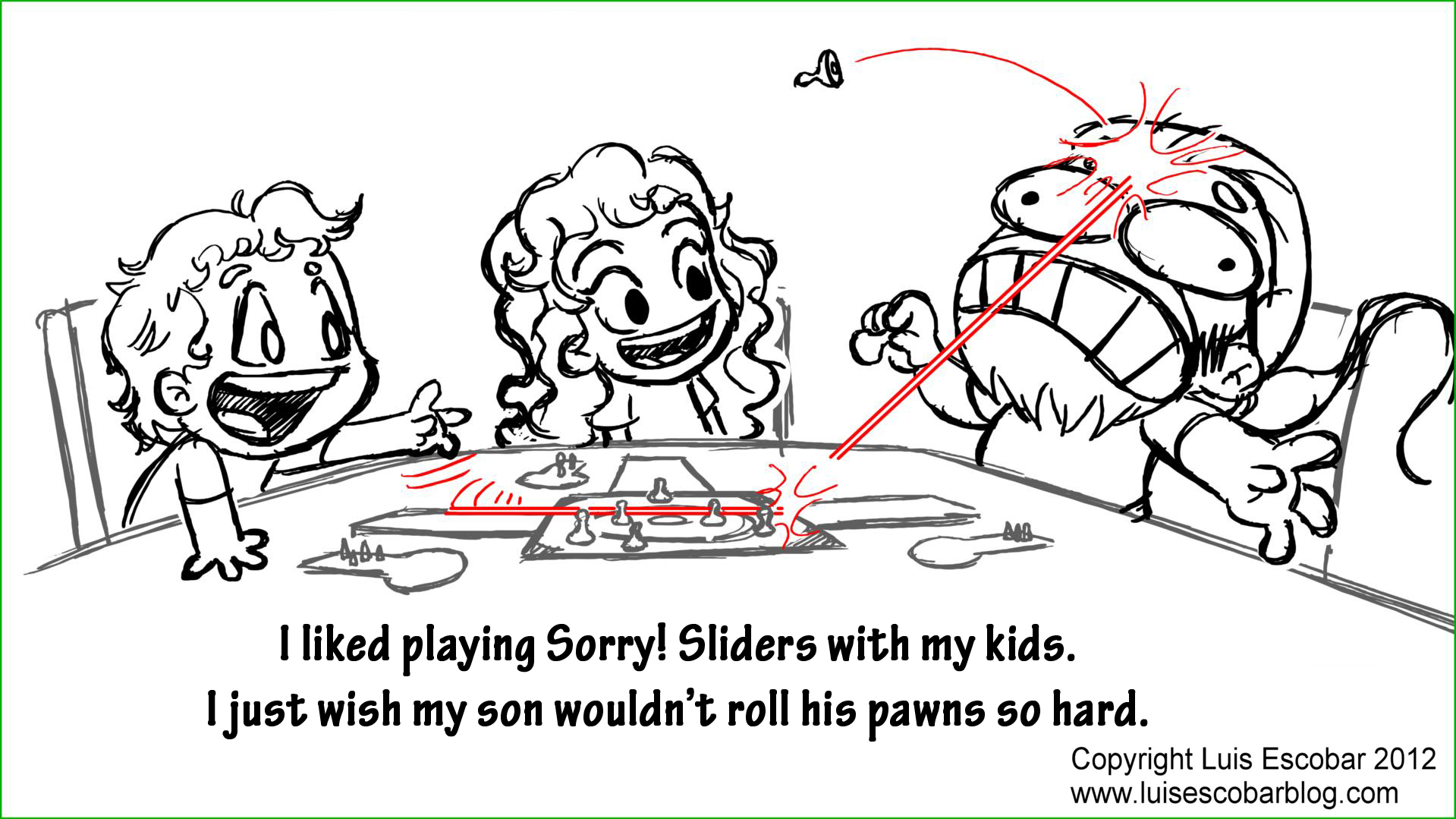 VIDEOS
Wanna watch 100 episodes of THE SIMPSONS all at once?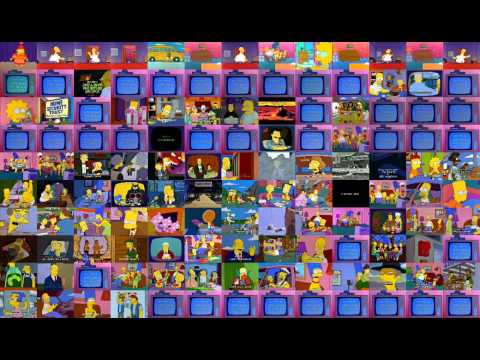 For more comic and stories written by me, CLICK HERE.

If you like what you read, please consider signing up to my rss feed.
Comments are appreciated as well.
I also have a store. Click Here and check it out.
If you would like to have a text ad on my site, click on the red BUY LINKS button under the Archives list.
And while you're at it, please Digg me too.
Writing this blog is almost a part time job for me. Tips are most welcome.
Post this "Working hard on special project. Played Sorry! Sliders with my kids. 100 Simpsons episode, all at once." image above on your blog/forum using following codes:
Website Code
Forum Code
Please Share this, if you like it: